Using Multimedia to Curate Sea Level Rise Content
In Spring 2016, undergraduates in my Visual Storytelling course contributed to FIU's Digital Collections Center by curating research, storytelling, art, and communication related to work on sea level rise conducted by FIU faculty, students, and staff.
(See updated syllabus [2-29-16] and what FIU said about the project. Click on the image above to see the final product.)
Some of the media captured, digitized, and archived includes what's been published on eyesontherise.org and work conducted in other units. Students archived material, using software from Omeka to create online narratives, such as what appears on rockefeller100.org
Students in this course were introduced to cultural themes of visual communication, museums, and libraries. Through practical application and collaboration, they created digital narratives, using the content that is already in – and that was added to – the collections to make the archives approachable and sharable for wider audiences.
This is also a great way to collaborate among several units and programs, including:
FIU's School of Journalism and Mass Communication (where I am faculty)
FIU Digital Scholars Lab (where I am on advisory board)
FIU Digital Collections Center
FIU's GIS Center
FIU Sea Level Solutions Center (where I am affiliated faculty)
FIU SJMC Media Innovation Incubator Lab
eyesontherise.org
FIU Department of History
Other FIU units that have produced work on sea level rise (see future updates)
Speakers visiting the class included Sree Sreenivasan, Chief Digital Officer for the Metropolitan Museum of Art, professors and staff from units across FIU, and community groups that create and curate their own histories of local culture and social issues. Some of the highlights are posted below.
---
Update: Week of March 7, 2016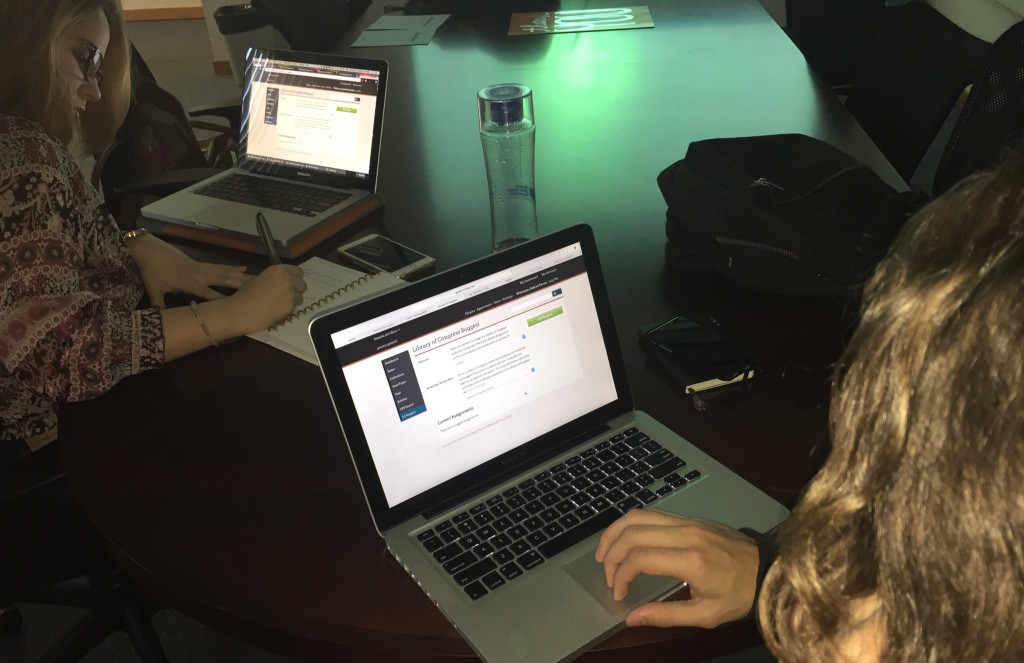 FIU Librarian Jamie Rogers joined the class for an initial training for creating Omeka.net narratives related to sea level rise and content collected in FIU's Digital Commons where a lot of student-produced and scholarly work appears.
Dr. April Merleaux from FIU's History Department also spoke with students about a host of events in Miami that focus on "Ecohumanities for Cities in Crisis" (see poster at right).
The purpose of this talk — and of the events — was to engage communities in meanings of literature, art, human geography, life, and love during discussions of sea level rise and during discussions about how to deal with the impacts of environmental change.
Increasingly, the work of FIU students and scholars from across the university is appearing on the Digital Collections website.
---
Update: Week of March 1, 2016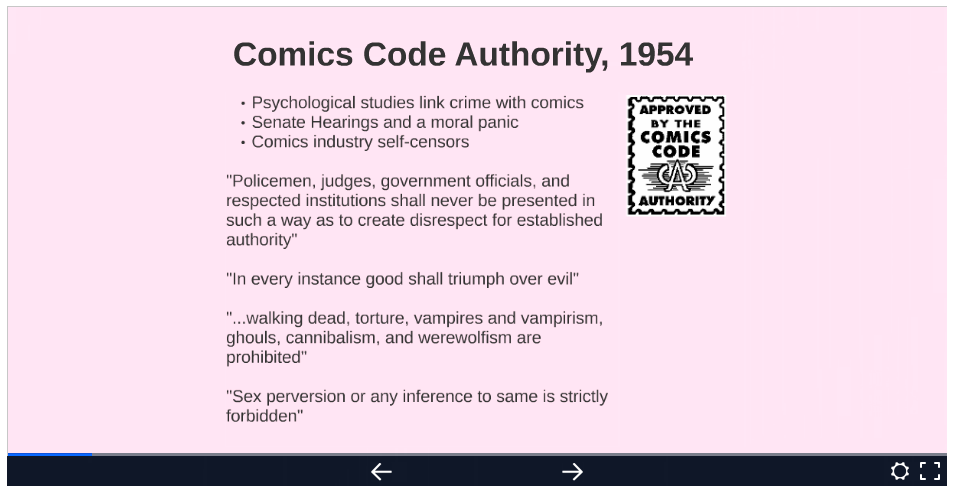 As students began to create their own visual narratives, FIU Librarian George Pearson discussed the genres and movements of graphic novels and comics. Among the topics (click at right to see the presentation):
Japanese Manga (click to see a history by Pearson)
U.S. governmental intervention into the comic genre and industry
Social issues related to homosexuality, masculinity, and difference that appear in comics
Commentary about issues of "good" and "bad" addressed by the genre, such as in one recent example
---
Update: Week of February 22, 2016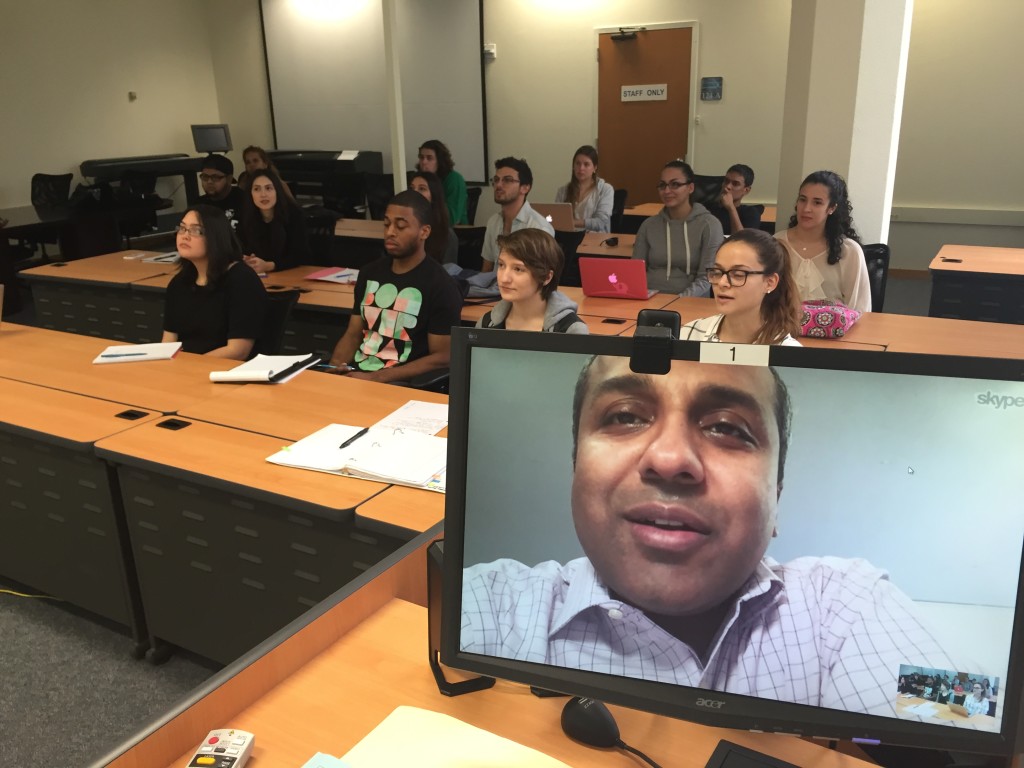 Sree Sreenivasan Skyped in from the Metropolitan Museum of Art to discuss how he uses storytelling from journalism, art, fashion, advertising, and other areas of communication to engage us in the purpose and approaches of creating digital narratives — particularly in print media and in online libraries.
(Also, watch Sree's talk at FIU in March 2015 for even more amazing information and perspectives to digital media content and communication.)
Students also met with Alicia Sandino, below, an FIU SJMC Digital Media Studies graduate who works in Miami as a digital content manager.
Sandino talked with students about the experiences of working with the eyesontherise.org project, conducting journalism related to it, and participating in research from the project.
In the end, students were able to learn more about the meanings behind some of the artifacts they would be curating and using throughout the semester.
---
Update: Week of February 15, 2016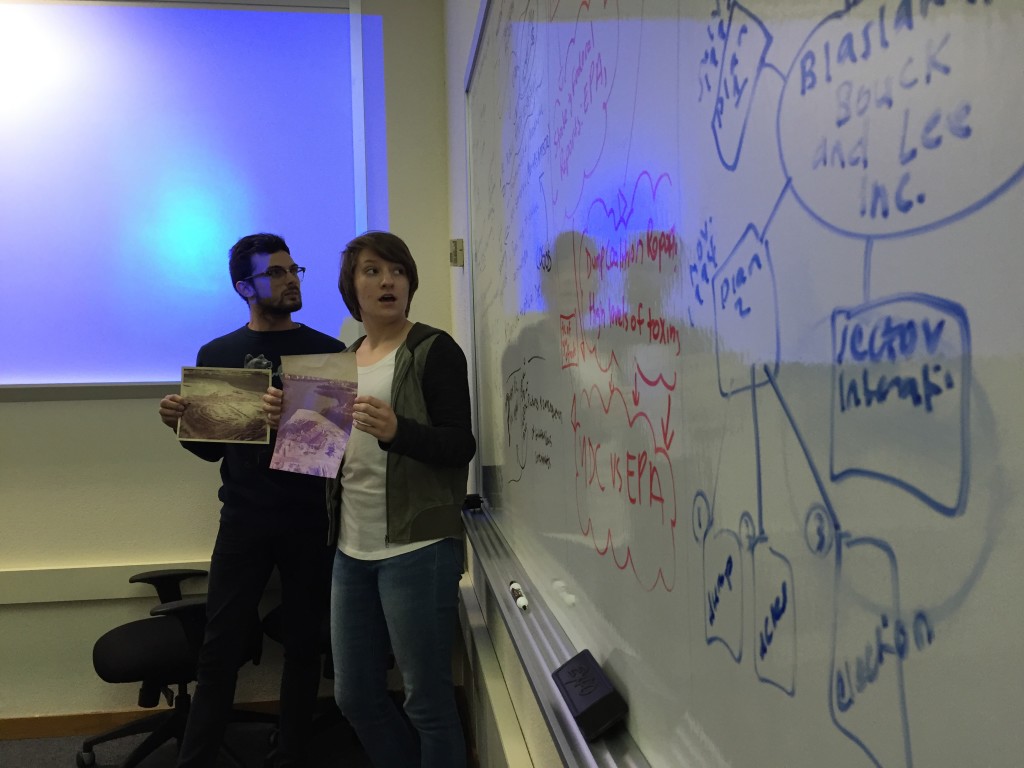 Students learned even more about histories of archiving, and they completed their first task: Curate.
At right, students turned to a paper archive of Munisport landfill histories, which I discussed in a previous post.
FIU Librarian George Pearson brought some of the related items into the classroom, which students used to create a visual narrative, which were in preparation for related narratives they will construct related to sea level rise and changing environments later in the semester (at top).
Items from the collection included photographs and maps (at bottom), official and community documents related to the landfill's development and the construction of the nearby FIU Biscayne Bay Campus that was once a site for an Epcot-like landscape gone bust.
Resources for this week included 1) a Prezi by Pearson that covers this history if the internet; 2) another Prezi by Pearson that examines the background on one of North Miami's biggest scams — the Munisport landfill and related developments; and, 3) a third presentation by FIU Librarian Jamie Rogers, which discusses issues of copyright in archiving and publishing material.
---
Special Update: Presenting Our Work (February 3)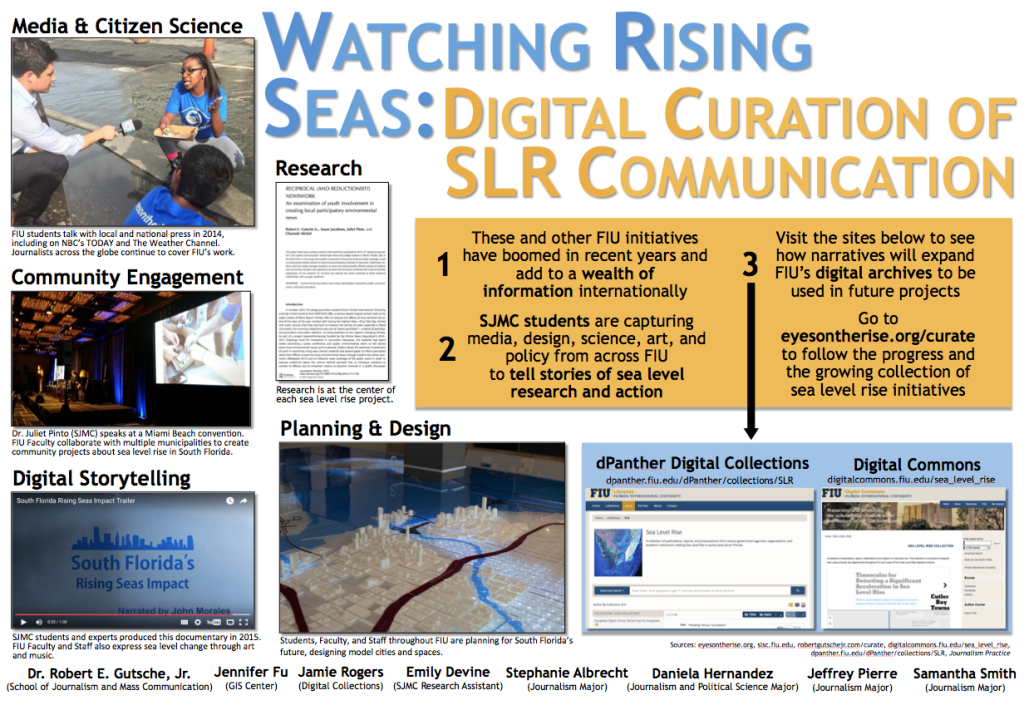 Three undergraduates, an SJMC graduate research assistant, and Jamie Rogers from FIU's Digital Collection presented a poster designed by our Visual Storytelling class at an FIU All-Hands Sea Level Solutions Center meeting Feb. 3. T
The poster (below) showcased our plans for the semester and helped us recruit work from other units that will be highlighted through narratives constructed by students in the Digital Collection.
---
Update: Week of February 1, 2016
In order to adequately curate material for this project, we needed to  understand the media products that are being archived. This means understanding how the products were produced.
This week, students met with creators of pooroleta.com, a community website that tells stories of the endangered Oleta River State Park in North Miami, which wraps around FIU's Biscayne Bay Campus.
Representatives from pooroleta.com introduced students to the website's visual storytelling surrounding the park's histories and personal artwork that they have created to tell stories about how the environment influences daily life at the site of massive development adjacent to the park, which is also home to a brownfield, the Munisport Landfill.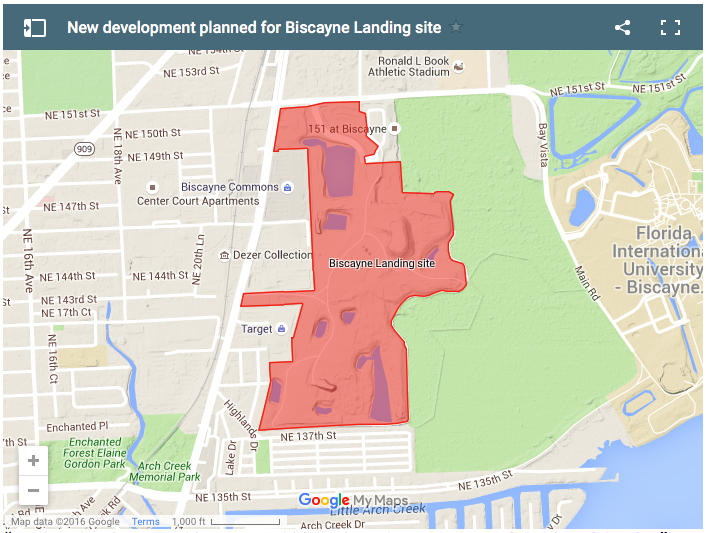 In future weeks, FIU Librarian George Pearson introduced the class to a unique collection of Munisport material, which needs to be digitized and preserved, especially as the site becomes home to some "4,000 residential units and a million square feet of retail and commercial space," according to the Miami Herald (at right).
Also this week, SJMC Professor Kate MacMillin introduced students this week to the details of how previous SJMC students produced the 30-minute documentary, "South Florida's Rising Seas: Impact."
---
Update: Weeks of January 18 and 25, 2016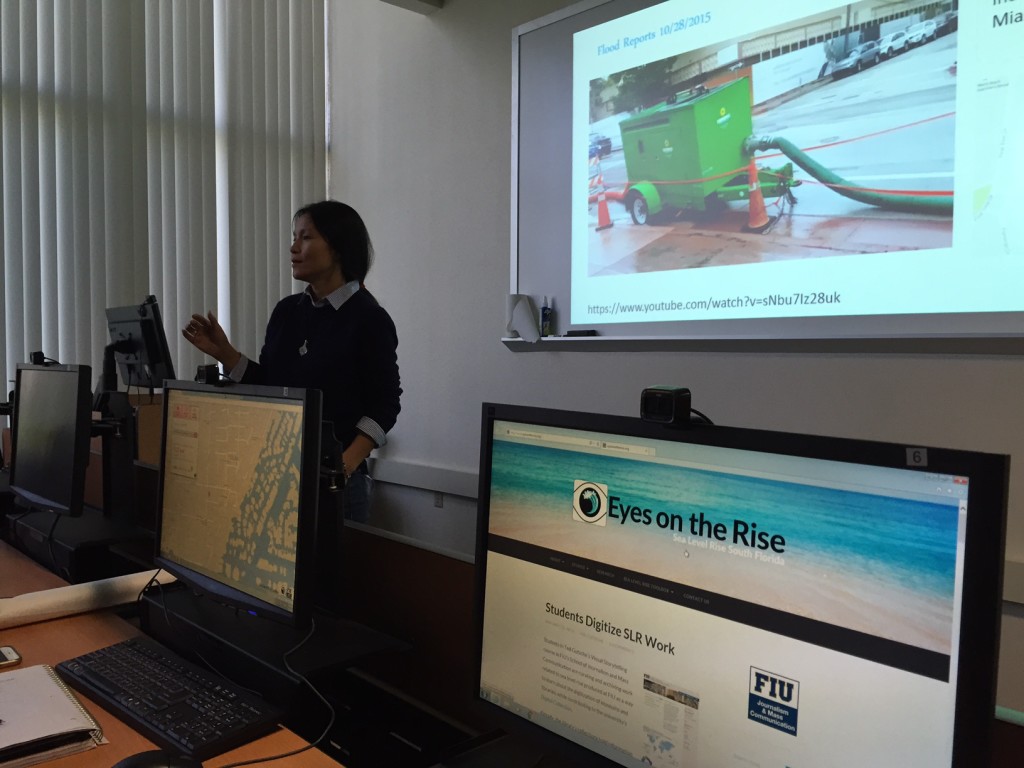 Jennifer Fu, FIU's GIS Center Head (at right), discussed the backend and technology of the Sea Level Rise Toolbox that is used to visualize rising sea levels in South Florida, which students worked to archive through the class project. Fu also introduced students to Web GIS (Geographic Information Systems) as a means to find data about people and place.
Dr. Juliet Pinto from FIU's School of Journalism and Mass Communication — and a team member of eyesontherise.org — introduced students to issues of sea level rise, providing background for the topics and approaches students examined during this project.
Students also viewed portions of the award-winning "South Florida's Rising Seas," which is one of several artifacts they curated as part of the course.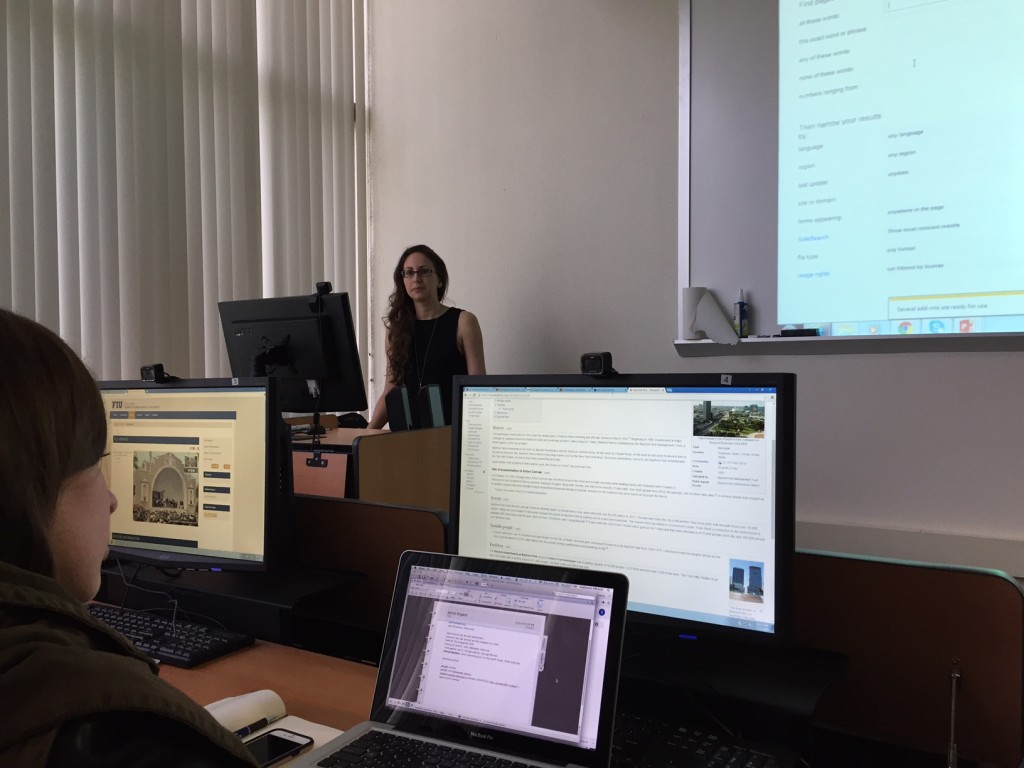 Jamie Rogers, Assistant Director of Digital Collections at Florida International University Libraries (at right), also introduced students to Miami-related digital archives.
Students also experienced the dynamics of searching metadata, the functionality and interactivity of library resources, and the need for storytelling within library collections to make-meaning of information within collections, particularly in the Sea Level Rise Collection, which this course surrounds.